2x New Brake Disc For Land Rover Range Rover II P38a 25 6t 42 D 46 D 60 D Brembo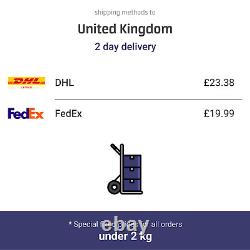 2X NEW BRAKE DISC FOR LAND ROVER RANGE ROVER II P38A 25 6T 42 D 46 D 60 D BREMBO. Will this item fit your vehicle? Before purchasing, please, pay attention to item Tech Data and check Reference Numbers section. Make sure that one of these reference numbers does coincide with the number of your previous part or does replace your Original Equipment Number. Surely, in case you doubt in fitment, cannot find the number of your previous part listed in Reference Numbers section, or just cannot be sure about item compatibility with your vehicle, we are here to assist you from Monday to Friday (excluding weekends, but still we will get in touch on Monday).
Thank you for your understanding. Our listings tech data details are provided from official manufacturers' tech data sources. It is highly recommended to verify fitment with our dedicated support before ordering. Use engines info and vehicle YMM compatibility chart for general guide.
To avoid any kind of misfitment, when you doubt in compatibility, or cannot find the correct item, please, contact Parts4Car tech support before purchasing. Strictly important to provide VIN along with your detailed request since there can be different options for your car specific tech characteristics.
The VIN a 17-character number (digits and capital letters)can be found by looking at the dashboard on the driver's side of the vehicle or on the driver's side door and look at the door post. BREMBO 09.6839.11 8020584031759 A. 24610 24610V ABE C3I003ABE ACDELCO AC2716D AP APEC DSK933 APEC BRAKING ASHIKA 600LL07 ATE 24012501641 24112501641 BENDIX 562110B 562110BC BLUE PRINT ADJ134319 BORG & BECK BBD4084 BOSCH 0986478483 BRAKE ENG DI955509 BRAKE ENGINEERING BRAXIS AD1026 BRECO A178352A BS8221 BV8221 BREMBO 09683910 09683911 9683910 BREMSI DBA873V CAR 142330 HPD330 CIFAM 800543 COMLINE ADC1306V AND6608 DELPHI BG2860 DJ PARTS BD1713 E. 190464 EUROBRAKE 5815204015 FARCOM 230315 FENOX TB219106 FERODO DDF873 DDF8731 DDF873C FOMAR FRICTION FO2644 FREMAX BD2817 FRI. BD0462 DF462 FTE BS4804 GIRLING 6027661 HELLA 8DD355106271 HELLA PAGID ICER 78BD2817 78BD28172 JAPANPARTS DIL07 JAPKO 60L07 JURID 562110J 562110JC KAISHIN CBR132 KAWE 650310 LAND ROVER NTC8780 LANDROVER LEMFORDER 2501901 LPR A4261V MAPCO 15681 MASTER-SPORT 24012501321PCSMS 24012501321SETMS MAXGEAR 192577 192577SPORT MAXTECH 8812140000 8812140060 8812140080 8812146060 8812146880 8812146980 MDR MFD2L07 METELLI 230543 METZGER MEYLE 45155210005 45155210005PD MINTEX MDC984 MOTAQUIP LVBD823Z NATIONAL NBD809 NECTO WN873 NF NF204015 NK 204015 314015 OPEN PARTS BDR174920 OPTIMAL BS5030 PAGID 50242 PEX 140068 PILENGA V432 PROTECHNIC PRD2355 QH BENELUX BDC4804 QUINTON HAZELL R BRAKE 78RBD22817 REMSA ROADHOUSE ROTINGER RT2463 RT2463GL RT2463GLT5 RT2463HP RT2463HPGL RT2463HPGLT5 RT2463HPT5 RT2463T5 SBS 1815204015 1815314015 ST-TEMPLIN 0311018650 0311018655 5311018650 5311118650 TEXTAR 92093600 TRISCAN 812017119 TRUSTING TRW DF2766 VAICO V4880003 VALEO 197224 186641 VEMA 98347 VILLAR 6281441. Packages sent by courier require signature. If you need our assistance, please let us to know. If you see that the package that courier tries to deliver is damaged, please fill up the claim form or do not accept it. NOTIFY US right away, we will arrange a replacement/reimburse your order A. Items that are sent in vacum or lubricated film cannot be opened if the retuns is issued. Please let us to know if you have not received our feedback, we will give feedback manually.