Alternator AAL1465 Apec ERR5834 Genuine Top Quality Guaranteed New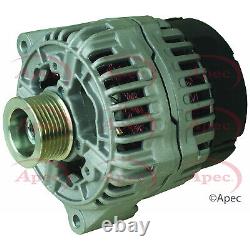 Same day dispatch if ordered before 3:30pm Monday to Friday. Please use the make model tool above to check the part fits your vehicle. 0123520022, 0986044360, 0986044367, 0986604436, 4436. Compatible with the following OEM references. LAND ROVER RANGE ROVER Mk II (P38A) 4.0 4x4.
Model year from: 11/1998; Vehicle Identification Number (VIN) from: XA 410482. LAND ROVER RANGE ROVER Mk II (P38A) 4.6 4x4. With over 50 years of experience in the automotive aftermarket, Apec has firmly established itself as a market-leading specialist in supplying braking components and products to the UK and Ireland. Today, Apec has developed its decades of expertise into a growing catalogue of parts and accessories that branch out beyond braking to meet the demands of an evolving marketplace.
From coil springs to shock absorbers, the name that was once synonymous with quality braking now means excellence on every level.