EBC Greenstuff Front Brake Pads DP61037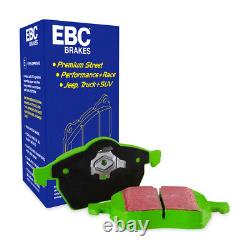 EBC Greenstuff has a high initial brake effect and gives drivers confidence from first application of the brake pedal. The EBC pad creates less dust and dust is more easily washed off than most.
All pads create more dust as they are bedding in especially if rotors are worn. For heavier faster cars we strongly recommend Redstuff which does offer much less dust. A medium to low dust material that offer a nominal 10-15% brake improvement. Nominal friction coefficient 0.55. Improved resistance to heat fade at higher speeds.
Suits modern Euro and Asian models alike. ECE R90 approved for all cars that require the European legislation compliance. Red brake-in surface coating accelerates pad brake in after install. Pads made with the Nucap NRS hook technology to ensure 100% secure pad bond.
Image shown is generic and may not show actual pads. Width: 145mm Height: 67mm Thickness: 19mm. Not ideal for track use, although many drivers have used Greenstuff 2000 for Hillclimb and lighter cars on the track.
For even faster street driving you might consider the EBC Yellowstuff grade or for race use the EBC new Bluestuff or RP and SR series pads. ID-Workz is an authorised UK Dealer of EBC brakes, offering the entire range of discs and pads at the most competitive prices. Please make sure to check stock before ordering. We have a huge amount of EBC products in our catalogue and we don't keep them all on the shelf.