Exhaust Middle Box Land Rover Range Rover 2.5 Diesel ATV 05/1999 to 02/2001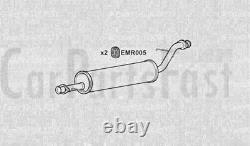 Land Rover Range Rover Diesel ATV 2.5 137BHP 256T 05/1999 to 02/2001. This part is supplied WITHOUT fittings - they are displayed on the image for information purposes only. However, a fitting kit is available for this product should you need to add it to your order. Other parts of this exhaust system are also available. All our exhaust parts exclude any engine management sensors or extra pressure pipes. We cannot accept liability for items not delivered by our couriers on time and would recommend that you do not engage mechanics or similar fitment specialists etc until you are in physical possession of the goods. The team at RSJ Exhausts is highly skilled, with many years of experience in the motor parts trade.
We are a state of the art Internet based business and trade store that uses the vast knowledge of its employees to source the best deals for you possible. All our stock is supplied direct from the factory ensuring you get the latest developed product.