Range Rover P38 Air to Coil Spring Conversion Kit Heavy Duty +1 DA4136HD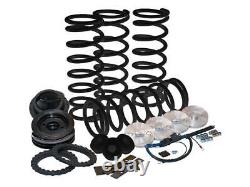 Range Rover P38 Air To Coil Conversion The EAS (Electronic Air Suspension) System found on the Range Rover P38 can present expensive, recurring maintenance problems. If you've had an air spring failure before, you know this first hand.
Britpart's coil spring conversion kit makes switching to coil springs seamless and error-free. The EAS Override Module suppresses all typical false dashboard display errors and buzzers ­­­­­seen when converting to coil springs. Any mechanic or Range Rover owner can install this coil spring conversion kit without having to go to a Land Rover dealer or Autologic-equipped repair shop to eliminate false.