Samco XDB Silicone Turbo Hose Kit fits Range Rover 2.5 DSE P38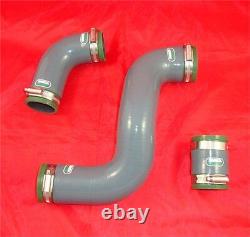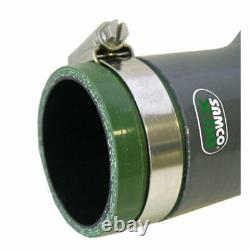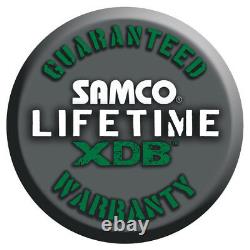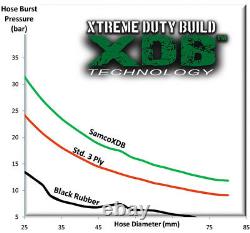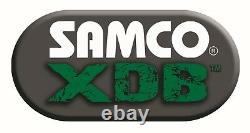 What's wrong with standard black rubber hoses? Original black rubber hoses have limited lifetimes - black rubber is great for mass manufacturing, but over time it perishes and can crack.
These degradation processes are accelerated with heat and pressure such when the engine is working hard, and ventilation may be reduced due low vehicles speed. Figure 1 below shows a typical hose suffering from cracking due to heat ageing. Figure 2 shows a hose which split under pressure. The other point of failure for a hose is where it joins the rigid pipework. Due to their moulded or extruded manufacturing process, standard black rubber hoses typically have very thick side walls.
Overtime, the thick rubber "relaxes" or "sets" - effectively flowing away from the clip which is trying to exert pressure on the hose to clamp it to pipework. As the rubber relaxes the force achieved by the clamp onto the pipework, drops off, and this can cause the hose to leak at the pipework joins (see figure 3). With Samco XDB, we take a totally difference approach to hose manufacture, which address these 2 traditional problems with black rubber hose - heat & pressure performance and hose clamping. Step 1 - Multi-ply Silicone Hose. At the heart Samco XDB hoses is our world-renowned multi-ply silicone core which is hand-made using multiple layers of silicone rubber reinforced with specialist fabrics. We use only the finest quality Automotive grade European Silicone, and depending on the application, we use either 3 or 4 plies, using Nomex fabrics where necessary, to withstand temperatures up to 250. In addition, specially formulated "flouro-silicone" is used for lining out Turbo hoses to provide optimum resistance to oil vapour. The resulting hoses offer a lifetime of reliable performance, guaranteed not to perish or crack like standard black rubber hoses. Step 2 - Extra Nomex high temperature ply. With our Xtreme Duty Build (XDBT) technology, we then add an extra 4th or 5th Nomex® high temperature ply.
This gives maximum protection from radiant heat sources (up to 250oC) under the bonnet, protecting the core hose from heat ageing effects - vital when engine ventilation is reduced such as when the vehicle is used in low speed off-road work. This extra ply also increases the hose's burst pressure by up to 100%compared to standard black rubber hose, and by over 30% compared to an equivalent silicone hose without this final layer. Importantly this extra Nomex ply offers this extra burst resistance specifically in the weakest areas of a hose - at mid-span. Step 3 - Tuff-Cuff hose ends for maximum clamping force.
With XDBT, the final Nomex® ply is intentionally removed for an 18mm section at each end of the hose. By removing this material from under the clip, the'setting' effects are dramatically reduced, and maximum clamp pressure transmission is achieved - up to 40% improvement compared to black rubber hose.
Removing this section does not weaken the hose in any way - even after this section is removed, this area is still stronger than the mid-section because it is protected from radial expansion due to the proximity of the hose clip. The final feature of XDBT is the prominent'end shoulder'. As hoses take on pressure, they will try to bulge at the middle and straighten - this can lead to substantial pull-forces being exerted on the hose clamp area, as the hose tries to "blow off".
As the hose takes on pressure, it will try to slide off the pipe work, but the hose clamp will then have to slide over the pipe bead for the hose to slide off further. The Extra Nomex reinforced final XDB ply adds critical strength to the weakest areas of the hose. Using our specialist hose-burst pressure rig, we tested the XDB range of hoses against both black rubber hoses (various constructions) and standard 3-ply silicone hoses. XDB offered over 30% improvement over standard 3 ply hoses, and over 100% improvement compared to black rubber.
When XDB hoses did burst, they still did so in the middle section of the hoses - illustrating that the "tuff-cuff" hose ends remain the strongest area of the hose. By adapting our test rig, we were able to simulate hoses "blowing-off" the test pipework. Repeat tests were run comparing Samco XDB to black rubber and standard 3 and 4 ply silicone hoses.
Unsurprisingly, thick-walled black rubber hoses were the worst performers - suffering most from'stress-relaxation'. The thinner-walled 3 ply hoses outperformed both the black rubber and 4 ply hoses - but again XDB took the honours - its thin wall construction under the clamp, and unique'end-shoulder' meant it out-performed black rubber by over 40% and 3ply hoses by 25%. THIS ITEM IS SUITED FOR THE FOLLOWING VEHICLES ONLY. With M51 BMW NON-EGR Engines. This item is in the category "Vehicle Parts & Accessories\Car Tuning & Styling\Air Intake & Induction\Hoses, Ducts & Fittings".
The seller is "amber-performance" and is located in this country: GB. This item can be shipped worldwide.
Non-Domestic Product: No
Modified Item: No
Custom Bundle: No
Manufacturer Part Number: TCS489-XDB
Brand: Samco